Pastoral: Quilting Bee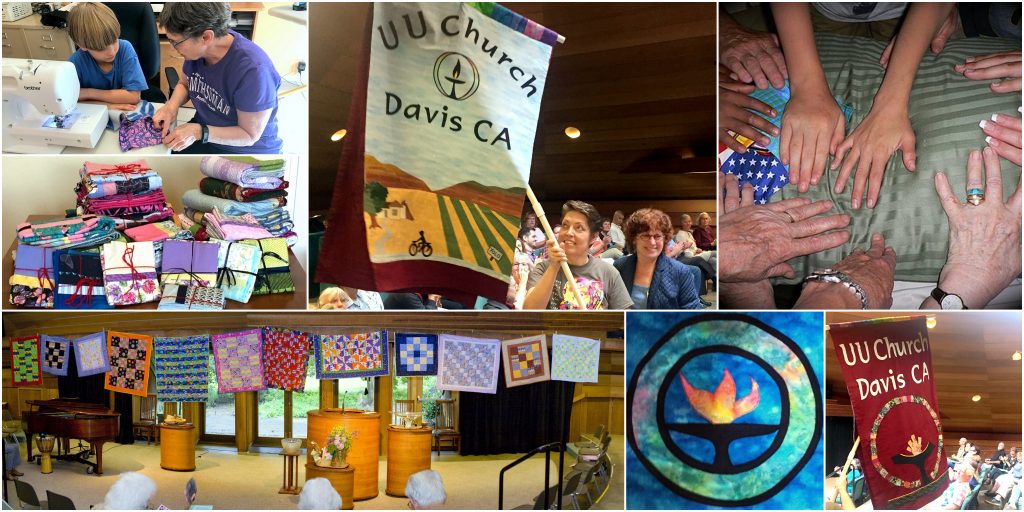 ---
Learn to quilt! We have beginners and experts.
We make bed-sized quilts for Progress Ranch boys (44 and counting); lap quilts and pillowcases for older members of our church community; small quilts and pillowcases for UUCD child dedication ceremonies; small quilts and pillowcases for nearby communities affected by fires; lap-quilts for YIIN fundraiser; a lap quilt for the Balazs scholar; small quilts, pillowcases, and preemie pads for children in challenging situations; quilted coasters/ornaments for ministers to give to church members in need of comfort; stoles for intern ministers; the new UUCD Banner for the UU General Assembly parade.
---
COVID-19 Response: Welcome to Mask Making  A UUCD Quilting Bee Project
Who received masks? (added May 20, 2020)
2,100+ masks sewn by about 35 people were donated in the last two months. Most mask makers donated directly to the individuals or organizations.
(partial list in no particular order)
STEAC, SPCA, Yolo Food Bank, school lunch distribution programs, Hope's Anchor (foster families), day laborers in Bay Area, Navajo Nation, farm workers in NJ, family and friends near and far including many family members working in healthcare, co-workers, occupational therapists, UUCD church members, non-medical staff at Woodland Hospital, Davis Spanish speaking families,Davis Farmer's Market vendors, CASA child's foster parents, UPS, Door Dash and Instacart drivers,UCDMC ICU nurse, Davis Food Co-op workers,  asylum seekers at Texas/Mexico border, children of domestic workers in Brooklyn, NY, Veteran's Hospital,Davis Methodist church members, Communicare Clinics, WeCare Yolo, Yolo Hospice, pediatric masks to a pediatrician, mail carriers, elderly & immunocompromised individuals, UCD Student Farm, UUCD landscape crew volunteers, nurses attending patients in their homes and nursing homes, Progress Ranch boys and staff, Yolo County migrant workers and farm workers and families, Turning Point, Meals on Wheels, Woodland Food Closet, Yolo Delivers Hope, Yolo Healthy Aging Alliance, URC residents (mostly made by people living at URC), non-medical staff at Stollwood Convalescent Hospital at St. John's Woodland, small local essential businesses, caregivers in the Families Together Project, asylum seekers, Native Americans in South Dakota.
Why wear a mask?
Cloth face masks reduce the possibility that you will transmit the COVID-19 virus but they do not keep you from getting COVID-19 the way physical distancing does.  Consider yourself an asymptomatic person who can shed virus.  When you go out wearing a mask, you are taking care of those around you because the masks help catch the wearers' sneezes and coughs and the droplets expelled when breathing.  Homemade face masks are NOT medical grade and  NOT N95.
When you see someone else wearing a homemade cloth mask, know that they are taking care of you. Together we can do this.
Who makes masks and why?
You can make masks even if you can't sew. Many UUCD quilters are busy sewing masks, mostly for organizations (esp. Yolo Food Bank, Communicare, Yolo Hospice) and for volunteers such as those handing out school lunches and driving people to chemo appointments.  We encourage you to make masks because the demand is growing much faster than the supply and it's very satisfying to do something hands-on.  See this PDF for a video and directions for one sewn mask pattern that many of our mask makers use.
Join the Facebook group Yolo County Mask-Making for COVID-19 for more patterns and directions including directions for making a mask even if you don't sew (to join the group, answer a few simple questions.)
The quilting group has some mask making  supplies and can help you get started.  Please contact Julie Saylor if you want fabric or if you have questions.
Sewing or making masks is a great way to manage the gnawing anxiety that staying in place can cause.  Focus on the making and giving rather than on the need.  
What can you do if you need a cloth mask and can't make one?
Ask us. We look forward to helping our church community and will strive to provide masks in a timely fashion. To request masks, please email Julie Saylor with the number of masks needed and whether any of the masks are for small children requiring a smaller mask. We don't have a stash because, as noted earlier, we have been helping fill many large requests and the masks go out quickly. If we receive many mask requests from church members, we will work to find what is needed. 
—Submitted by Julie Saylor with great assistance from Pat Moore-Pickett
Donate to Support UU Quilters' Mask-Making Projects: Give via our website, choose "Quilting Mask Donation."