Stewardship: Auction
The Auction is UUCD's largest fundraiser.
Connect with our Auction staff: auction@uudavis.org
---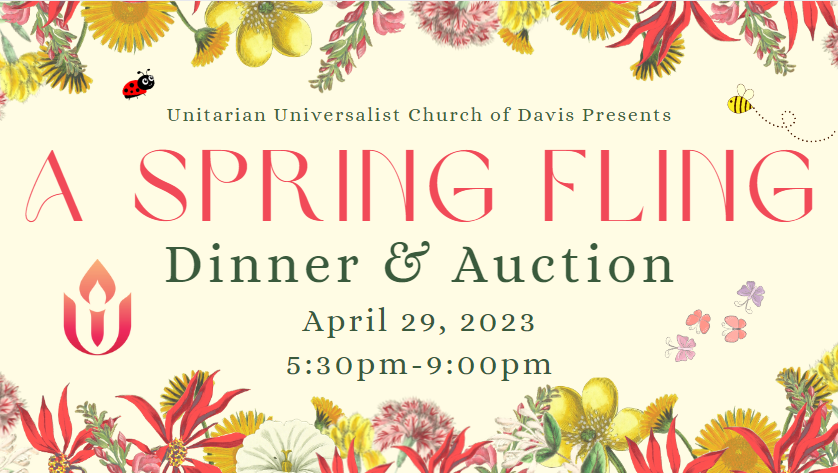 Welcome to the UUCD 2023 Service Auction!
A Spring Fling, Dinner & Auction
A Celebration of Growth, the Greening of the Land & Being Together
---
Join your UUCD community on Saturday, April 29 at 5:30pm, for an evening of food, fun, and FUNdraising including a Silent and Live Auction, games, and raffles!
Festive or spring-themed dress encouraged – whatever that means to you.
---
Tickets on sale NOW: 
Want to pay by cash or check? Stop by the Auction table any Sunday between now and April 23 and we'll get you set up.
Get your ticket by April 9 and be automatically entered for a door prize drawing. Winner announced at the end of the Live Auction.
This year, as part of an ongoing effort to live our UU values, the Auction Team is setting the Auction ticket price to $0. We don't want cost to prevent anyone from joining this amazing UUCD Community event. ALL are welcome!
If you would like to pay for your ticket, a donation option is available at the end of the registration process.
What your Auction ticket covers: Each ticket includes entrance to the event, entertainment, the chance to bid on fabulous items, a taco bar dinner, and two complimentary drink tickets.
While the auction benefits the church in many ways, your ticket purchase supports the cost of putting on the auction itself.
---
Children & Youth Events: Free Auction night events sponsored by the UUCD RE Team. Supervised childcare and activities for children in grades K-12. Please reserve a space by "purchasing" a ticket on the Auction website – spaces are limited. Drop off at 5:30pm, Pick up at 9pm.
---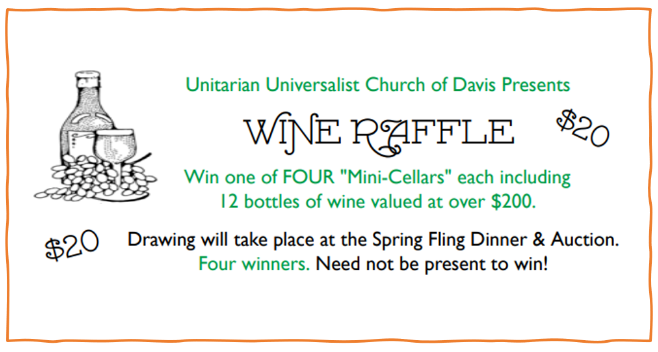 Wine Raffle: Wine lovers rejoice! Raffle tickets now available at the Sunday Auction Table and online on our Auction website! Win one of FOUR amazing "mini-cellars" of 12 bottles of wine with a value of over $200 each! Tickets are only $20 and FOUR winners will be drawn on Auction night. Need not be present to win.
---
Silent Auction: Silent Auction will be open for online bidding beginning April 16 and ending on April 25. Auction attendees will have the final bidding opportunity on over 100 FABULOUS items including many beautiful handcrafted goodies available at our "Makers Table".
---
Auction Software Tech Help: Want to bid on everything but could use a helping hand getting your auction account set up? Join our LIVE ZOOM on April 16 from 6-8pm for assistance. Or, check out this simple tutorial (click here) to help you through.
---
Would you like to donate to the Auction or know of a business that might like to? It's easy!
---
Questions? Email auction@uudavis.org or look for our Auction table on Sundays at church!
---
Thank you to this year's Auction sponsors and all of our fabulous donors!